PEI'S TOP SPOTS TO LAND A GIANT BLUEFIN TUNA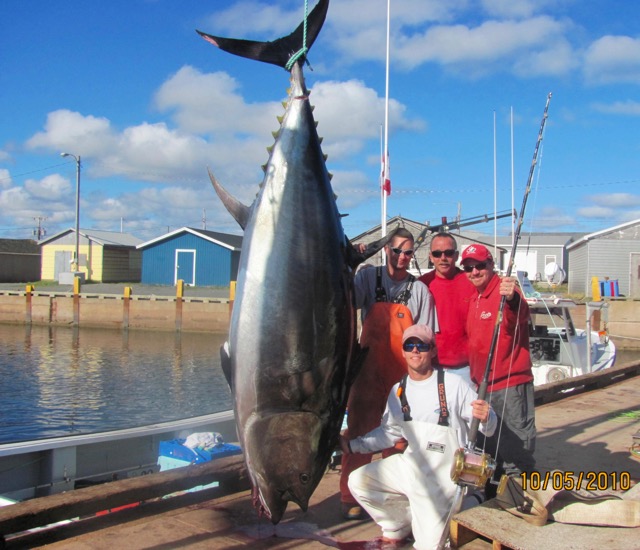 PRINCE EDWARD ISLAND: BLUEFIN TUNA
Why this is one of Canada's must-have fishing experiences
For such a tiny province, Prince Edward Island can certainly boast its share of angling opportunities, from steelhead in the Souris River to brook trout in the Morell to striped bass in the Hillsborough. Then there's the chance to go after cod, flounder, mackerel and white perch in the Garden of the Gulf's umpteen harbours, bays, beach ponds and tidal tributaries.
To catch P.E.I.'s undisputed king of catches, however, you'll need to venture well out into the north Atlantic, where the mighty bluefin tuna reigns supreme. Looking to channel your inner Hemingway? Head for one of the several jumping-off points, chief among them Covehead Harbour, North Lake, North Rustico, Souris and Tignish.
While bluefin populations may be imperiled elsewhere around the globe, they've been enjoying a healthy resurgence in recent years in the waters off P.E.I. That has certainly helped tiny North Lake to reaffirm its mantle as the "Tuna Capital of the World," where it hosts the annual Canada International Tuna Cup Challenge. And for lunker-loving anglers, there's now the chance to catch one of the world's mightiest big-game fish, weighing as much as 1,200 pounds. Sure, P.E.I. may be Canada's smallest province, but the land of Anne also promises our largest fish—and a giant dose of Maritime hospitality in the process.
WHEN TO GO: Mid-July to late October
HOT TACTIC: Troll cut bait suspended beneath a kite, beyond the boat's wake
LEARN MORE: www.tourismpei.com
THE HOT SPOTS
MacLeod's Ledge
North Lake Fishing Grounds
Fisherman's Bank