20 ALBERTA HOT SPOTS FOR CUTTHROAT TROUT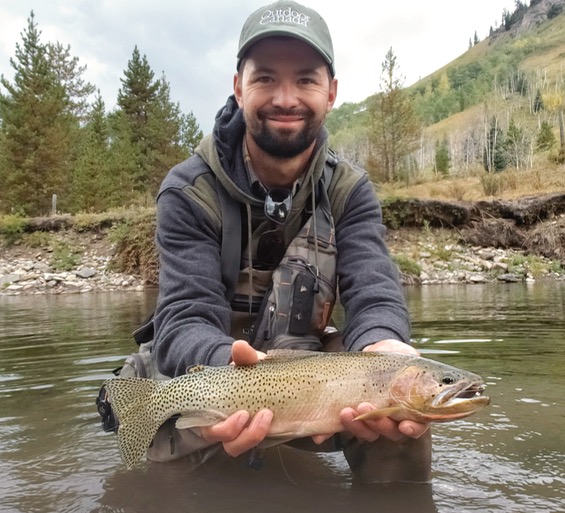 ALBERTA: WESTSLOPE CUTTHROAT TROUT
Why this is one of Canada's must-have fishing experiences
Despite their geographically confusing name, Alberta's westslope cutthroat trout are actually found on the eastern slopes of the Rockies. And while all trout are pretty, cutties may be the prettiest of all, with their arc of dark spots on flanks ranging from silver to yellow-green. Capping it all is that distinctive red-orange slash below the jaw, giving the fish their slightly gruesome moniker.
Native to Alberta's Bow and Oldman River drainages—and stocked elsewhere—cutties are found in rivers ranging from mid-size down to tiny tributaries, plus a scattering of alpine lakes. And since they require especially clear, cold, clean water, these fish truly live up to that old adage about trout living in beautiful places. Food is relatively scarce in those waters, however, so cutties are typically hungry, and willing to take a whack at almost anything edible looking that drifts by or swims within range.
Alberta's record cutthroat is a thunderous nine pounds, but most anglers would consider a two-pounder a trophy. Not that cutties are coveted for their size. Instead, fishing for westslope cutthroats offers the complete, classic trout experience: hiking into secluded, stunning surroundings and using simple fly-fishing or spinning gear to bring a magnificent little fish to hand.
WHEN TO GO: Mid-June to October
HOT TACTIC: Drifting dry flies in both lakes and rivers
LEARN MORE: www.travelalberta.com
THE HOT SPOTS
Blackstone River
Bow River
Carbondale River
Castle River system
Crowsnest River
Dutch Creek
Highwood River
Hummingbird Creek
Livingstone River
Lost Creek
Lynx Creek
North Ram River
Oldman River
Racehorse Creek
Rawson Lake
Rummell Lake
South Ram River
St. Mary River
Stenton Lake
Upper/Lower Kananaskis Lakes