On the Move
Secret Strategies That Keep Hard-core Muskie Hunters Catching Giants All Season Long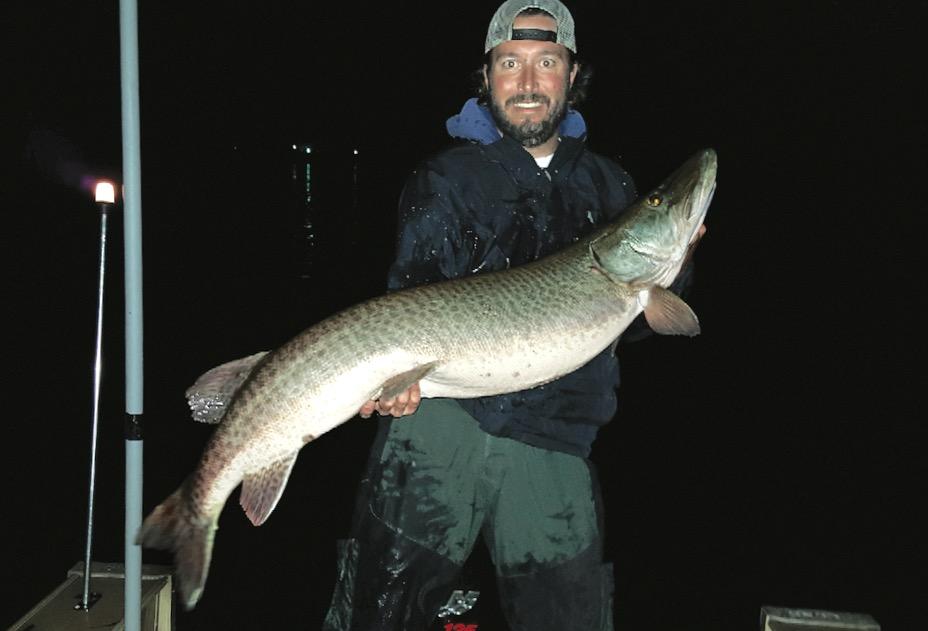 Tackle That Can Take It
The amount of torque applied to your gear when trolling at high speeds is astounding, especially when a fish hits or if you snag the bottom. So, make sure you have the right tackle for the job, says Dave Kormanyos (above), owner of Louisville, New York's DK Musky Lures. A builder of muskie baits, he not only pays attention to the detail and quality of his lures, but also to the trolling gear he uses.
"Rod holders and their attachment points are a major part of your trolling set-up," says Kormanyos, who does most of his muskie hunting on the world-record waters of the St. Lawrence River. In this department, he prefers locking Down-East Salty rod holders matched with specialty Fat A.Z. bases, which use a slip washer to allow for the easy pivoting of the rod. This makes it simple to check if your bait is running true, or if you need to raise your rod when trolling over shallow sections. As added insurance, he also uses St. Lawrence Custom Rod leashes.
For rod and reel, Kormanyos recommends using an eight-foot, heavy-action fibreglass rod—he likes the Custom X Trolling Rod—paired with a high-quality line-counter reel, such as the Shimano Tekota. The fibreglass rod, along with a looser set drag, will absorb shock when a fish hits, reducing the odds of tearing the hooks out of a muskie's mouth.
When it comes to baits, Kormanyos suggests having a few lures with different styles and actions at the ready. Baits are simply tools, he says, and there's always a proper tool for the job at hand. He says there are days when the fish prefer a wide-wobbling lure, such as his own DK Fifty Finder, or a Mortimer Baits' Kirby or Legend Lures' Perchbait. Then there are days, especially in the fall, when fish want a bait with a tighter action, such as his DK Subban or Musky Mania's Jake. For speed trolling, in-line bucktails, spinnerbaits and Hose Bait's Jointed Hose Fatty are excellent options, as they'll run true at even the highest speeds.