HOLD THE SALT
Though designed for ocean fishing, these eight exotic fly patterns are just as deadly on Canada's freshwater fish

#6  HALF AND HALF
The Half and Half blends two of the greatest saltwater flies: the Clouser Deep Minnow and the Lefty's Deceiver. Why play Dr. Moreau like this? Because a Clouser sinks and jigs, but its slender length is limited to the size of the bucktail, while the bulkier Deceiver swims seductively, but doesn't sink.
Combine the two, however, and you've got a huge fly that swims deep or darts along the bottom in both lakes and rivers, even on a floating line. And with a sinking line, it will easily go 15 feet down.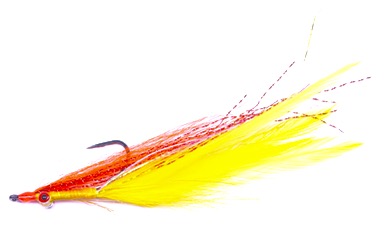 The Half and Half is an easy tie, but there are a few things to remember. To ensure it moves correctly, the dumbbell eyes should be about one third of the way back from the front of the hook. And all big flies are much sturdier if you dab quick-drying superglue (I like Zap-a-Gap) on all the main tie-in spots. Like its progenitors, the Half and Half is entirely customizable—you can make it flashier and fatter, or duller and sleeker. As for colour, though, I suggest using black, white or something in between.
HOOK: Gamakatsu B10S Stinger, Mustad 34007 or similar, size 1/0 to 3/0
EYE: Medium or large dumbbell
TAIL: Four or six saddle hackles, with a few Krystal Flash and/or Flashabou strands
BELLY: Sparse bucktail, extending about half the length of the tail
WING: Bucktail over sparse Krystal Flash, extending about half the length of the tail
DIFFICULTY: Easy