Matthew Owl and Ritchie Falls Resort
The challenges and rewards of revitalizing a historic, indigenous-owned lodge
Outdoor Canada is pleased to present Blue Fish Radio—podcasts about the future of fish and fishing in Canada. The program, produced and hosted by Lawrence Gunther, is dedicated to sharing first-hand angling knowledge, scientific discoveries and supporting local champions who protect and enhance their waters.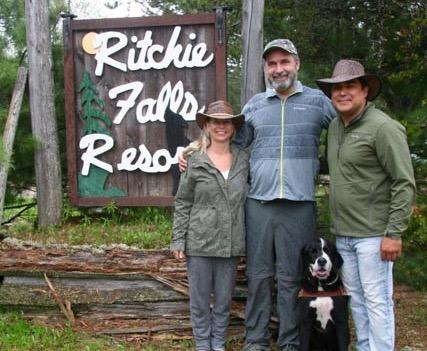 Matthew Owl and his wife Kyla (above, with Lawrence in the centre) are the new managers and promoters of Ritchie Falls Resort in Massey, Ontario, a 100-year old-fishing and hunting camp. Since it was purchased in 2012 by the Sagamok First Nation, the Owls have been revitalizing the aging camp, and adding indigenous-themed ecotourism to its traditional activities.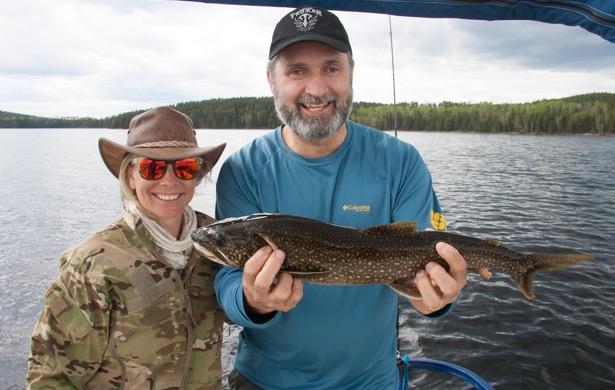 In Part 1 of this two-part interview, Matthew talks about the challenges of starting over while still honouring Ritchie Falls' spirit and customer base. In Part 2, Matthew talks about growing up biracial on reserve, how he got into the indigenous tourism business, and forging new opportunities in business and in life.
To hear Part 1 and Part 2 of the interviews, press PLAY below. To download this podcast to your device, go to the Blue Fish Radio home page.
Listen to "Matthew Owl and Ritchie Falls Resort Part 1" on Spreaker.
Listen to "Matthew Owl and Ritchie Falls Resort Part 2" on Spreaker.
Learn more about Ritchie Falls Resort at www.ritchiefalls.com.