Because of its central location, lying smack dab in the middle of the country, the city of Winnipeg is used by fishing camps and tourist resorts throughout Manitoba, Saskatchewan and the Northwest Territories as a jumping off spot.
Anglers fly into Richardson International Airport from around the world, overnight in the city and then transfer in the morning to smaller float or wheeled planes for the last legs of their journeys north.
In fact, that is what buddy Stu Thompson and I were discussing last week, as we sat on the bank of the swirling Red River, enjoying a cup of coffee, as the jets rumbled overhead.
"I wonder how many anglers who head north have any idea what they're passing over?" I asked Stu, who is the fly fishing product specialist at the Cabela's store in Winnipeg and who guides on the river.
"Not many, " Stu chuckled, "because if they did they probably wouldn't get on the plane."
How true, I thought, as I mentally tallied up the number of fish we had caught to that point. Let's see, there was a mid-teen channel cat, two high teen carp, half a dozen pike, at least 20 goldeye, a sauger and more four to eight pound freshwater drum than you could shake a stick at. And we'd taken every single one of them on flies!
It was a fantastic day of fishing and we weren't 100 yards from our vehicles.
Stu and I were fishing the famous stretch of the Red River below the Lockport dam near the town of Selkirk, an easy 30 minutes drive north of the Winnipeg. I say "famous", because this portion of the river—one section is known as the "Miracle Mile"—offers arguably the finest channel cat fishing on the planet.
But cats on flies?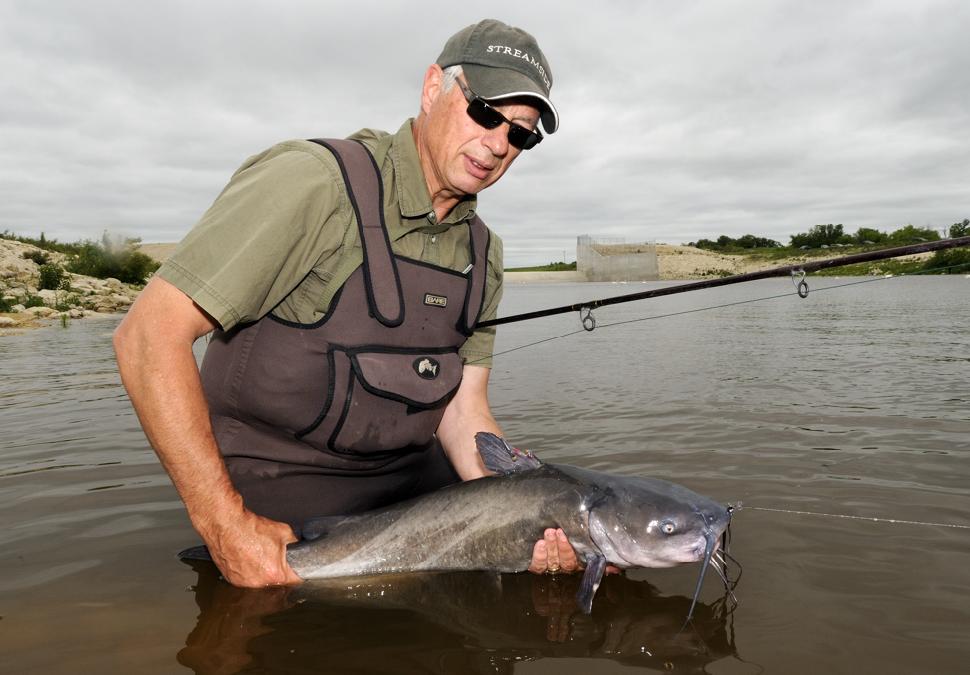 I confess it is the first thought than ran through my mind when Stu invited me to come over and sample the fishing.  I thought the only way you could catch channel cats was by laying a shrimp, squid, octopus, frog or cut bait on the bottom and then waiting for a fishy feline to pick up your bait and start peeling line from your reel.
"There is no question that is the most popular way to catch channel cats," Stu said, "but it is not the only way.  And I'd argue, it is not the most exciting way.  The fun way is on a fly."
To prove the point, Stu had set me up earlier in the day with a 10-foot long, 10-weight Streamside fly rod and reel spooled with floating line with a high density sinking tip.  He had also stuffed a small box into my Rapala waders that was crammed with an array of his exquisitely tied Clouser minnows and legendary DDH Leeches.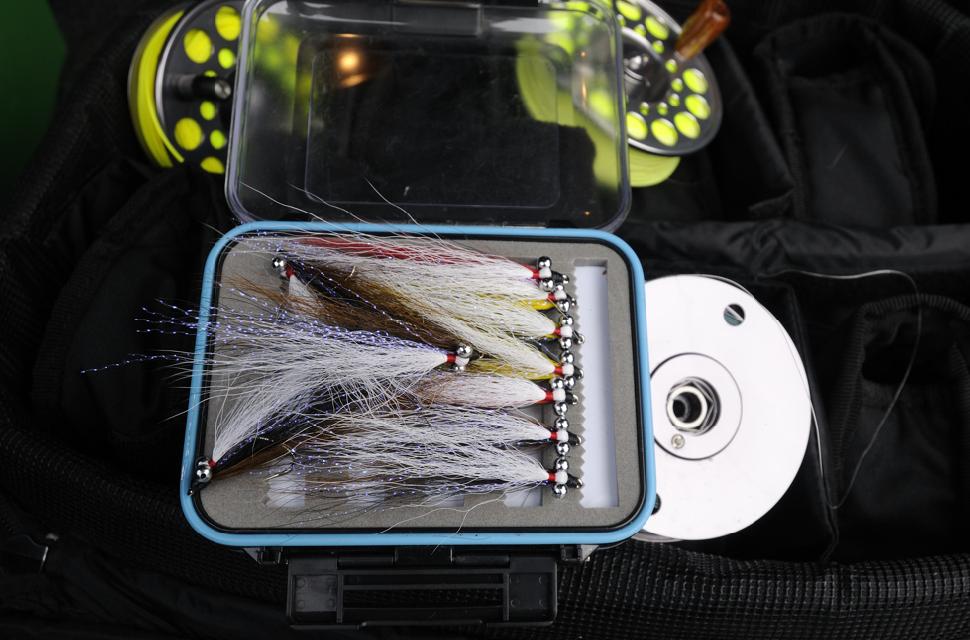 Now, I have to be honest, I had never used a 10-weight outfit before, having spent all my fly fishing time on small rivers flinging much lighter 4, 5 and 6 weight rods and reels.
The bigger, heavier stick took a little getting used to, but Stu, who is an exceptional fly fishing teacher, made it simple work to iron out the kinks.
In fact, on that note, if you live anywhere near Winnipeg—or find yourself in the city on business—drop by the Cabela's store and talk with Stu, or call him and spend a day or two on the water with him. I guarantee, he'll have you fly fishing like a pro in no time at all. And the best part is that you don't need to bring a single thing.  He'll outfit you for the day with high quality, elite level Streamside rods, reels and line and all the flies you will need. Better still, while you learn how to wave a wand, you'll be fighting huge fish.
Speaking of which, did I tell you about the one that got away?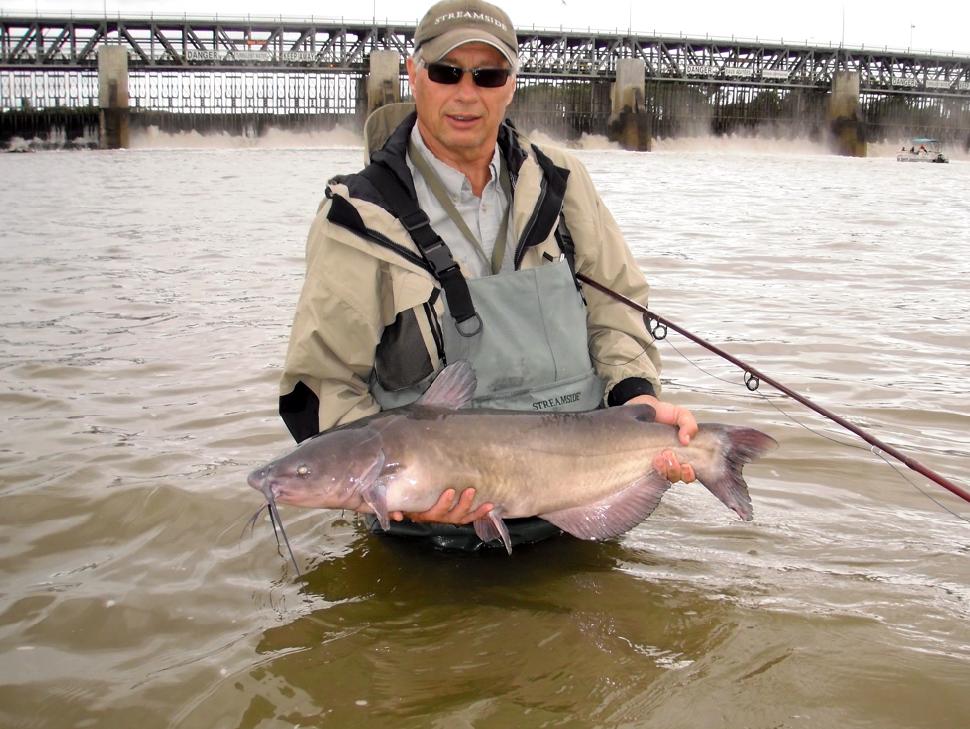 I had cast out my Clouser minnow to the edge of the current break and was stripping in line at a reasonably quick pace when I suddenly felt a strike and everything seized up.  Instinctively, I yanked back hard on the line while lifting up the rod smartly, and that's when my rod tip buckled over and the line I was pulling shot out of my hand like it was tied to the bumper of a locomotive. Seems a monster channel cat didn't like the little minnow stinging its lips.
With eyes the size of saucers, I didn't say a word, but turned and looked at Stu, who had been watching the entire episode unfold.
"THAT … was a huge fish," he chuckled.
And then another airplane rumbled over our heads.
To book an incredible day of fly fishing on the Red River with Stu Thompson, email him at flyfisheranonymous@gmail.com or phone (204) 257-0115 or (204) 981-3384.
To learn how to tie one of Stu's original and deadly DDH leeches, visit this post on the Orvis blog.