Just the Tonic
I can read your mind and I know what you're thinking—good gawd, not another review of a pair of sunglasses—but keep on reading, please, because this is different.
Several years ago, I journeyed to Australia on the fishing adventure of a lifetime. I snorkelled with wild sharks in the Coral Sea, caught black marlin on the Great Barrier Reef and fly fished in Tasmania for the wildest strain of brown trout left on earth. The fish are the direct descendants of the original brown trout that were hatched from eggs collected over 150 years ago in the chalk streams of England, and brought to Australia when it was still a penal colony.
It was all cooler than cool.
And what made it even more special were the Aussie blokes that I was privileged to meet and fish with, chief among them being Ken Orr. Ken runs a top flight fly fishing guide service in Tasmania, and at the time, was also a member of the Australian National Fly Fishing Team that competed around the world.
He introduced me to "polaroiding" for trout and it was one of the highlights of my fishing career.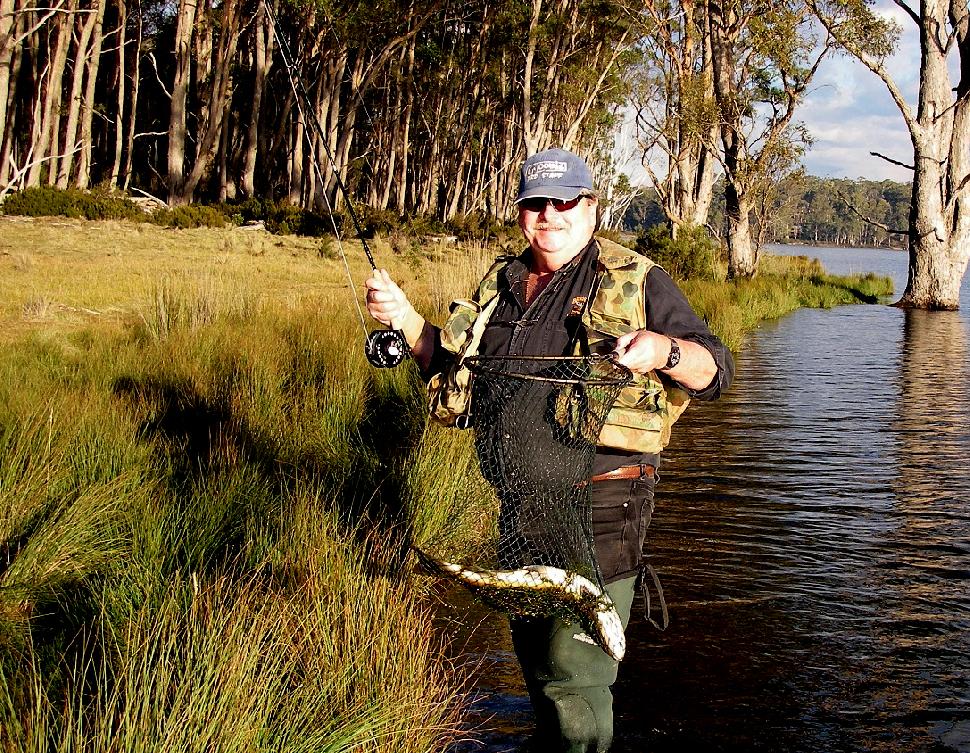 Unlike in North America, when you fly fish for trout in Tasmania, you rarely make a cast until you first spot the fish. So, you walk along the "margin"—Aussie talk for the shoreline of the lake or pond—wearing polarized sunglasses until you spot a wild fish cruising beneath the surface. Then you carefully stalk it, make your cast, watch it rise up and eat your fly.
It is as much hunting as fishing and it is amazingly effective the way Ken and his kin do it. But, to be successful, you have to be wearing the best polarized sunglasses available. See where I am going with this?
Thanks to social media, and the fact that fishing is a universally spoken language, Ken and I have remained in touch all these years. And having spent time with him, walking his beloved Tasmania trout fishing haunts, I know that when Ken Orr talks trout fishing, you better listen. Which is what I did when he sent me an email message about a year ago saying the new Australian brand Tonic sunglasses are the real deal.
"But, don't take my word for it," Ken said. "Contact the company, request a pair to field test and then draw your own conclusion."
So, I did just that, and I was stunned—absolutely blown out of my waders, off my feet and into the water. Truth be told, I wear prescription sunglasses from a well known American company that I buy from my optometrist for close to $400 out of my own pocket.
And the non-prescription Tonic sunglasses that I field tested blow them to smithereens.
Understand what I am saying? The modestly priced, over-the-counter Tonics (also available in prescription form by the way) are so far superior to my high-priced, brand-name prescription glasses that it is ridiculous. If I hadn't seen it with my own eyes— literally—I would never have believed it was possible.
I featured the Tonics in my ICAST new product rundown in the 2017 Fishing Edition of Outdoor Canada Magazine, and they deserve the high praise they're now getting.
I should mention, too, that I have read all of the company's news releases about the glass and polycarbonate lenses. They come in both materials, incorporate four colours and the inside is coated with an anti-reflective film, so you don't lose any colour perception.
The decentred lenses also let you to see straight ahead, up and down and also peripherally, without experiencing any optical distortion, which as I discovered "polaroiding" with Ken under the harsh Tasmanian sun is a god send.
To be honest, most of the technical stuff I reviewed gave me a headache. But what didn't cause my eyes to throb are these incredibly fine sunglasses. Everything else aside, they are simply the best glasses I have ever worn for fishing.
And that, you can take to the bank—or rather, to the "margin" of the lake.