The Matity boys, Jeff and Jason, rolled into town late Thursday evening, and it is fair to say that from dawn until dark for the next three days we did nothing but eat, sleep and ice fish.
Being from the rolling prairie country of southern Saskatchewan, the boys don't get the chance very often to ice fish for some of the species—black crappies and lake trout, in particular—that I take for granted.
On the other hand, I doubt if there are two more knowledgeable burbot anglers on the planet, so I wanted to crawl inside their minds and get the scoop on how to consistently target and catch the freshwater cod.
So our game plan was simple: we'd spend one day chasing King Kong crappies, another tagging line-screaming lake trout and the last catching a lot of lota.  (If you didn't catch the pun, the burbot's scientific name is lota lota.)
So, how did we fare?
I have to admit the fishing was far from easy, but if the truth was also told, that is what makes ice-fishing get-togethers like this, during the February doldrums, so much fun.  It forces you to dig down deep into your bag of tricks and find ways to catch the fish.
Consider what Jason did on the first day for slab crappers.
We were marking individual husky crappies on our Humminbird Ice Machine screens, but it was obvious the fish were spread out rather than bunched up and competitive.  And they were in a terrible funk.
They'd rise up slowly, look at the bait, hang tough for a few seconds, and then slide back down to the bottom like slow moving elevators.
So, let me ask you the question: What would you have done to counter the situation and catch fish?
Jason, took the wire and brass clacker off a ReelBait Fergie spoon and tied it to the end of his line.  Then, he added a foot-long leader and knotted on a small crappie-size jig.  When he lifted up the affair and let it drop, the brass clacker—made for summer walleye fishing in stained water—rattled and clacked and obviously raised a crappie commotion.
Matter of fact, hopping, popping and then holding the rig stealthfully still, Jason managed to catch a bunch of big fish topped off by one of the biggest giant slabs—approaching 17-inches in length—that I've seen in an awfully long time.  Matter of fact, I think the smallest crappie he caught was better than 13-inches long.
So, with one-third of the game in the books, we were feeling pretty smug as we set off to chase lake trout on Saturday.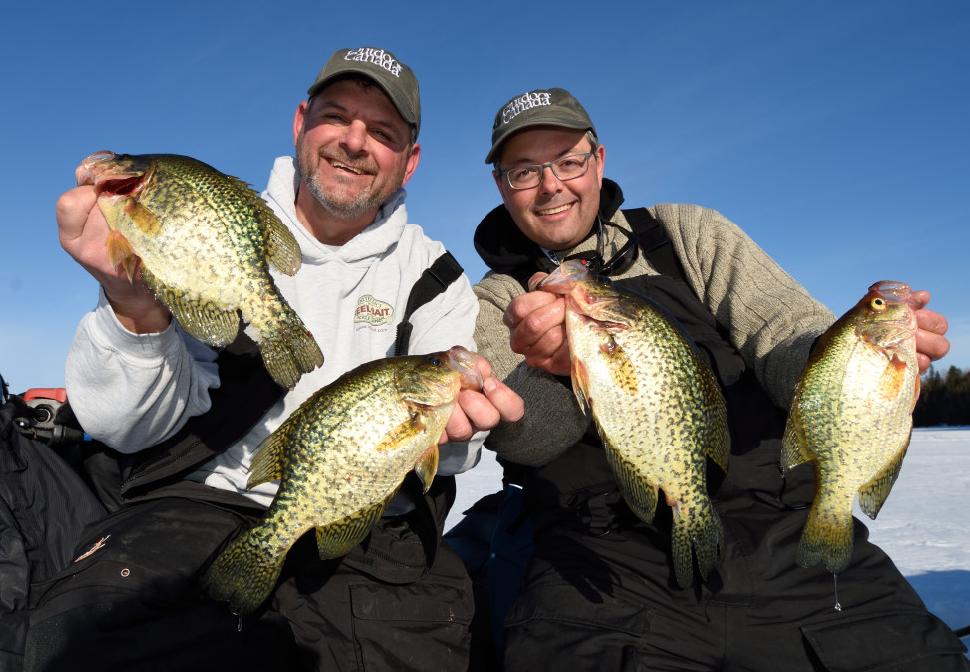 But the trout were reading the same hard-to-play book as the crappies the day before.  I nailed a beauty on a white and yellow Bass Magnet tube within the first fifty minutes of drilling our first set of holes.  And Jason had a "drive-by shooting"—a laker that screamed onto his screen and smacked his Fergie spoon—but it was pretty apparent that the action was sluggish.
So it was Jeff who unravelled the killer course of action.
For years, I've been adding a tiny gold and silver Williams Firefly spinner a foot or two up my line, ahead of my lure, to simulate a flickering school of shiners, smelts or ciscoes.  This day, however, Jeff chose to use one of new Tournament Series Flasher Jigs moulded around a sticky sharp Gamakatsu hook.  The Flasher Jig has a tiny willowleaf blade moulded into the head,  and Jeff alternated between adorning it with a six-inch paddletail swimbait, and a purple pearl Bass Magnet Tinsel Tail tube.  And he wailed away on the trout with both decorations.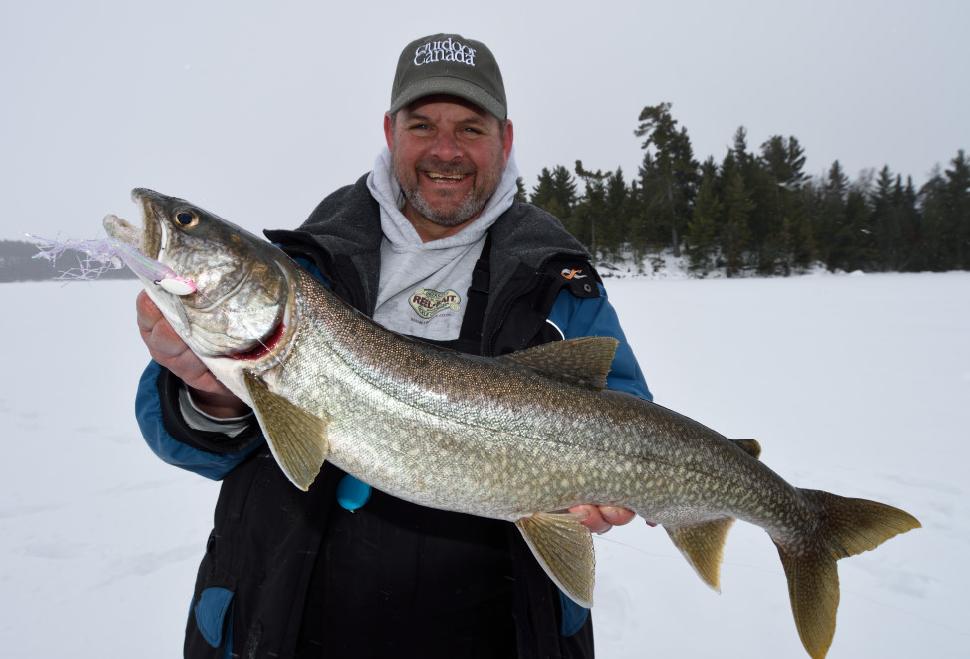 So, the pressure was on to go three-for-three heading into our final battle with burbot.
Most ice anglers only catch burbot—also know as ling, mariah, and my favourite, lawyers—by accident.  And because they have a face only a mother burbot could love, they don't get the respect they deserve.  From a biological point of view, they're amazingly fascinating fish—more about that in a future blog—and because they're essentially freshwater cod, they are scrumptious table fare.
But, as we pulled our snowmachines off the trailer and headed down Lake of the Woods, the only advance information that I could give Jeff and Jason to aid them in our search was where buddy John Monteith (Fish Hunters Guide Service) and I have caught occasional burbot by accident in the past.
Let me tell you, it is a good thing that Jason is an ice augering fool, because I guarantee we drilled more miles of ice holes yesterday than TransCanada proposed for the Keystone pipeline.
We searched across the tops of shallow shoals where the boys suspected the burbot might be spawning—yes, they spawn in mid-winter under the ice—and where the non-spawners protect the neighbourhood from would-be intruders.  I told you they have a fascinating life history.
What knocked off my socks, however, was watching Jeff filet a huge ciscoe into butterfly flaps, that he then skewered through the middle, onto a one-ounce ReelBait Flasher jig.  Next, he lowered it to the bottom, popped it up and down four or five times aggressively to make as much noise as possible with the jig crashing into the rocks and boulders, before raising it up a couple of inches and hanging it perfectly still.
Quite impressive, I thought.
Following Jeff's tutelage, I started walking from hole to hole, smashing the bottom with my jig/ciscoe combination.  And that is when I spotted the bright red arc appear on my Humminbird screen underneath the jig, and watched it slowly rise up in burbot fashion and then, felt it smack the bait.
"Whoa, nice fish," I yelled to the boys, feeling pretty certain we'd finally solved the burbot conundrum.  But then the head of a 27-inch walleye popped into the hole and slithered out onto the ice.
"Oh, no, it is a damned walleye," I chuckled.
Honest truth, I can't remember the last time I was ever disappointed catching walleyes, but that is how the rest of the day played itself out as we chased burbot from the shallows to the drop offs and down the slopes, only to rewarded with walleye after walleye after interminable walleye.
Oh, well, at least I could add another technique to my list of clandestine winter walleye techniques.  And I must admit, it tasted pretty good making such sweet lemonade out of the lemons we were served.