Prairie predators
Secret strategies for successfully hunting down the wily coyotes, foxes and badgers of Western Canada's grasslands
Prairie predators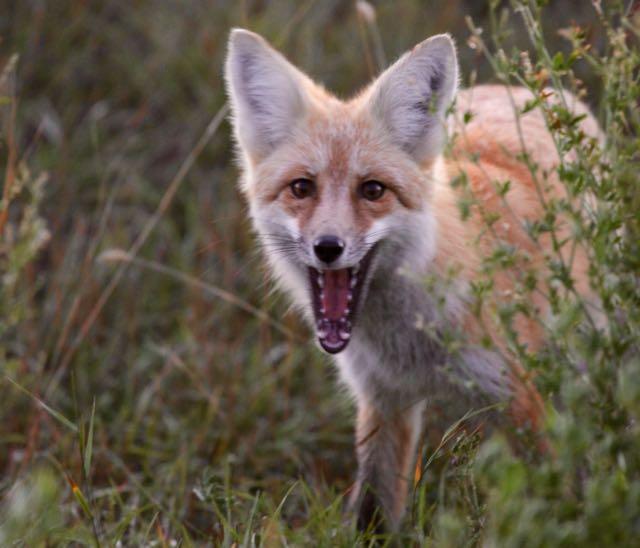 FOXES
Foxes behave more like cats than canines when they hunt and feed, and that makes them interesting to watch. With their finely tuned radar for locating and tracking prey in the grass or under the snow, they'll leap high into the air and pounce on a mouse or rodent they can hear but not see. They'll often clear the tallest grass or fenceline, making them visible for a brief moment.
The good news is, it routinely takes foxes a couple of leaps to catch their prey, giving you time to lift your binos. I've located more than one big red this way after seeing distant movement. You'd think a bright orange coat would stick out like a sore thumb on the prairies, but foxes blend amazingly well. If they're not moving, you're unlikely to see them.
As with coyotes, I'll observe the behaviours of other wildlife when searching for foxes. Again, taking advantage of what the animal is already focused on will almost always lead to a close encounter. One telltale sign that a fox is in the vicinity is the flushing of birds, especially sharp-tailed grouse. These game birds hold tight and know how to hide from most predators, so when they flush, you know a fox could be close at hand. And here's the bonus: The fox will be so preoccupied with stalking its prey that it will be oblivious to everything else, including you. That means spotting a hunting fox at a distance can easily provide the perfect spot-and-stalk opportunity.
If you're hunting in an area where you know foxes like to hang out, you can also use a predator call to make them show themselves. The sound of a mule deer in distress, for example, will typically send a fox running, as it will think a coyote is in the neighbourhood. Coyotes put the run on foxes whenever possible, and the two don't often share the same hunting grounds. A pleading chicken or other bird-in-distress call, on the other hand, quickly lures in a curious and hungry fox. A mouse squeaker is also a good bet.
Finally, here's my best advice for locating foxes: Search areas close to people. Why? With coyotes always hot on their heels, foxes tend to hang out closer to places coyotes avoid, such as farmyards. They'll often create dens under granaries, for example, or hang out in dry culverts. South-facing ridges in large open fields, where foxes can easily avoid coyotes, are also hot spots.