Rewards of winter
When it comes to hitting the hardwater, northern Manitoba's Wekusko Falls Lodge is sure to bring out the master angler in you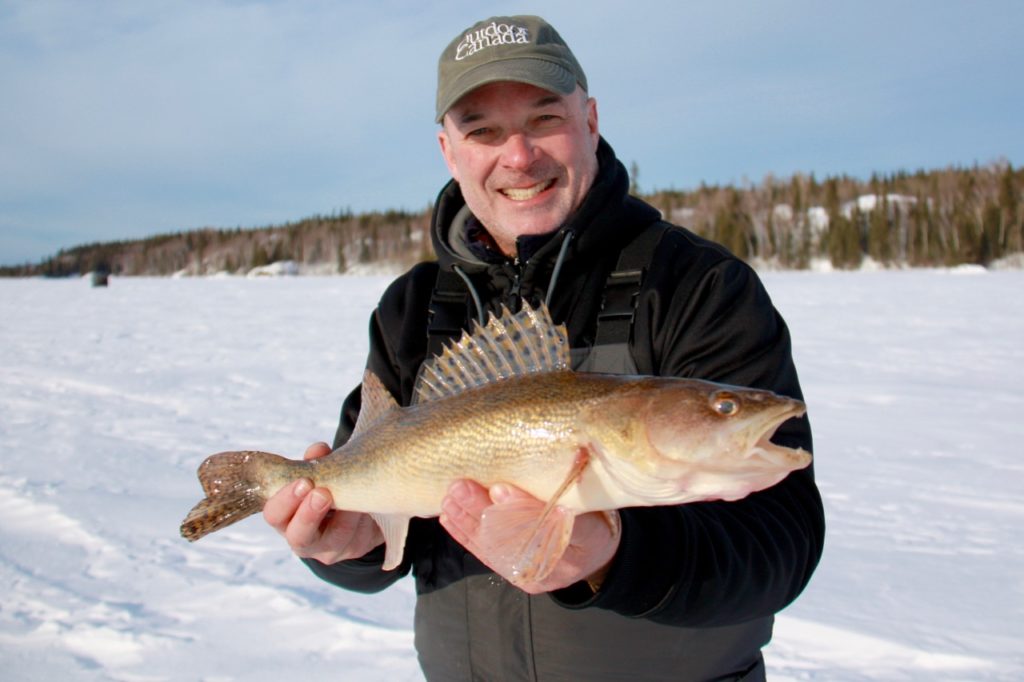 A truly big fish did indeed eventually smack my jig, but it wasn't the trophy walleye I'd been expecting. "What a huge sauger!" Bryan said, grabbing his measuring board. And it was huge for a sauger, a 20.5-inch specimen that easily surpassed the 18-inch requirement for Master Angler glory—and made its way into my own record books as my personal-best sauger (above).
After gladly photographing the fish for evidence of the catch, I promptly released it back into the wild. Then Ted added to the fun by poking a 13-inch yellow perch, hitting the minimum for also garnering Master Angler status.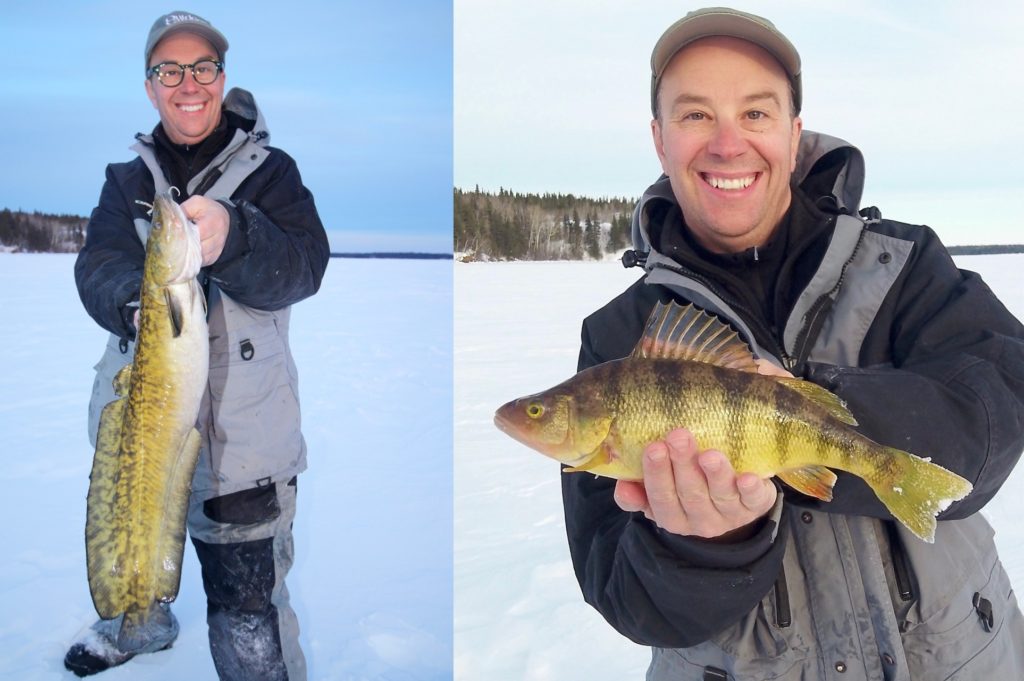 Ted Cawkwell with one of his many burbot (left) and his jumbo perchSeveral fish on the jig later, my deadstick rod bent over yet again, and I bolted the 12 feet across the snow-covered ice to pluck the rod from the holder, pull up the slack and set the hook. It was quickly apparent I had a good fish on the line, which was confirmed once I squeezed the beefy walleye through the ice hole and laid it down for a quick measurement: 28.5 inches, a half-inch to the good to qualify for Master Angler status. Mission accomplished.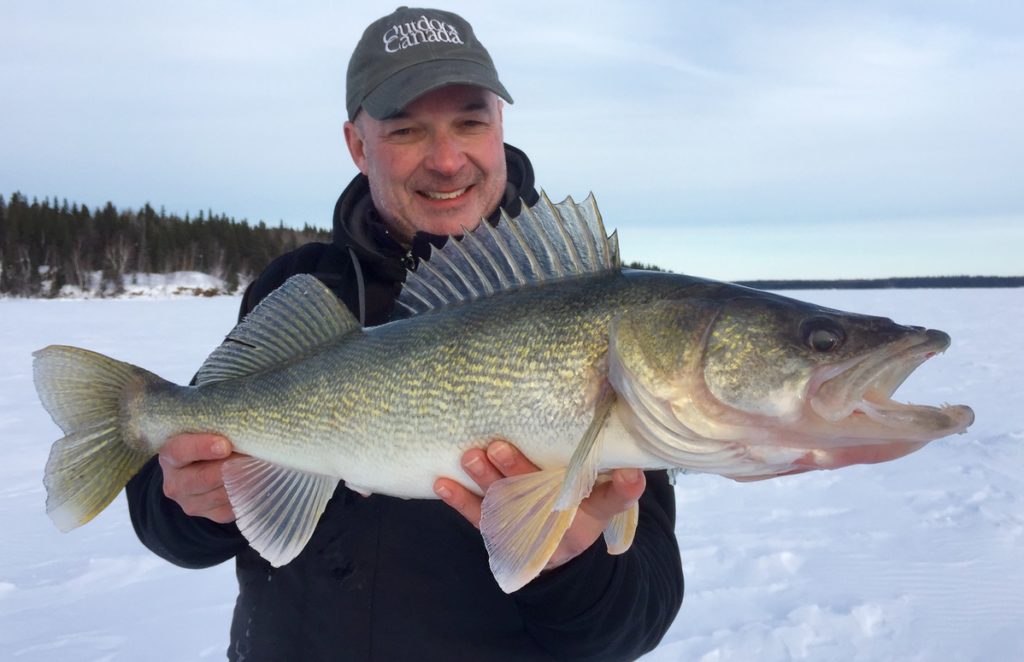 After the obligatory high-fives all around, Bryan left us behind to check out his go-to burbot flats. But he needn't have. As quickly as the walleye and sauger bite tailed off, the burbot turned on, and soon Ted and I were hauling in fish after fish on glow-in-the-dark Venom spoons. As if to remind me that winter had yet to leave, the burbot slime adhered to my hands like a sticky gel, quickly freezing my fingers as the sun set and the temperature once again dropped to double digits below zero.
Soon, Bryan returned and we decided to call it a night, having recorded three Master Angler fish and enjoying a stellar burbot bite. And with that, my ice-fishing season had finally come to an end. As for Bryan, it would be almost another two months before he eventually hung up his auger for the season, on April 28. Now that's what you call a Master Angler.
Editor-in-chief Patrick Walsh promises he will not let his new master angler status go to his head.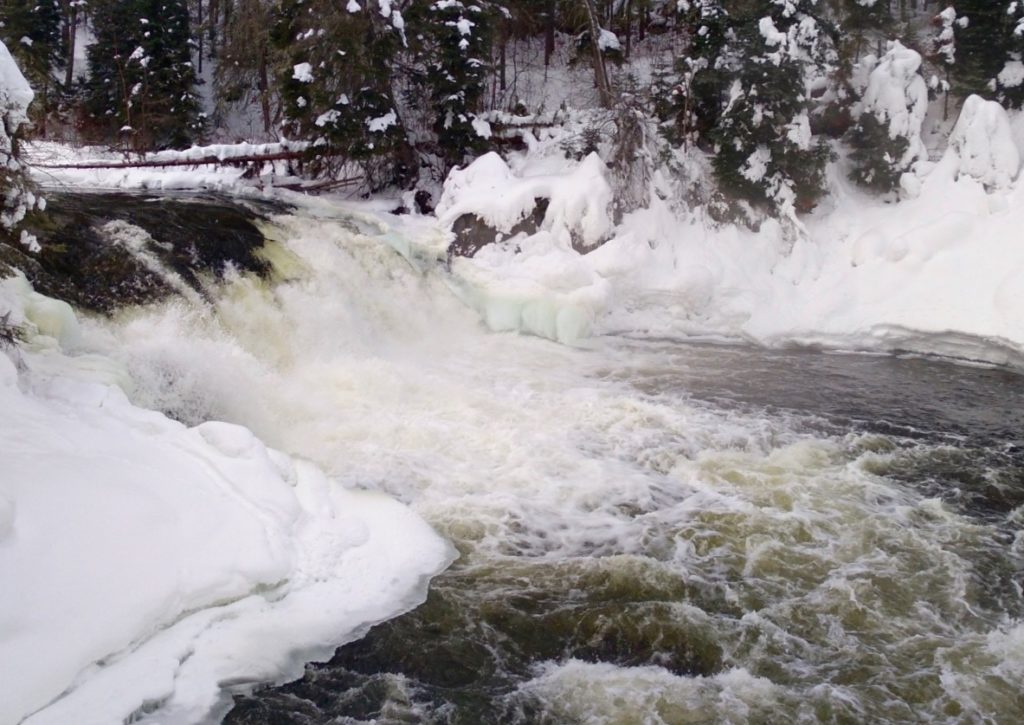 LIFE AT THE LODGE
Situated on the banks of the historic, 600-kilometre-long Grass River, a key travel route during Canada's early fur-trading days, northern Manitoba's Wekusko Falls Lodge is just steps away from its picturesque namesake falls (above) and like-named provincial park. Open year-round, the lodge and its nine rental cabins can accommodate up to 32 visiting anglers or hunters (along with guided fishing, the lodge also offers hunts for wolves and trophy black bears). The well-appointed cabins feature plenty of creature comforts, from Wi-Fi and satellite TV to full kitchens and three-piece bathrooms. There are also meal packages on offer, as well as free marina services.
Since purchasing the drive-to lodge in 2010, Bryan and Elissa Bogdan have made a host of improvements, including complete cabin renovations, all-new tin roofing and a new government-approved water system. Plans are now afoot to build yet another cabin, as well as an outpost on nearby Reed Lake. As for their fishing and hunting offerings, the pair have expanded the lodge's bear-hunting areas and secured more tags, while also acquiring more lake allocations for fishing. Originally from the small Saskatchewan towns of Avonlea and Frontier, respectively, Bryan and Elissa live on-site with their three young children, Kiley, Kolbey and Noah, making them readily available to tend to their guests' needs.
Learn more at www.wekuskofallslodge.com.

GET WITH THE PROGRAM
Established in 1960, Manitoba's Master Angler Awards program is designed to promote sportfishing in the province by rewarding anglers for their trophy catches. Thirty species of fish are included in the program, with eligibility for an award determined by the length of the fish. Anglers with qualifying catches are presented with official certificates and pins signifying their accomplishments. Bonus catch-and-release pins are also handed out to those anglers who let their trophies go to fight another day.
Learn more at https://anglers.travelmanitoba.com.
Every Friday this winter we'll be sharing Outdoor Canada's coolest ice-fishing tips for 2019. Check back often for the latest tackle, tips and techniques for icing more walleye, trout, perch, northern pike, lake trout, crappies and whitefish.