Rewards of winter
When it comes to hitting the hardwater, northern Manitoba's Wekusko Falls Lodge is sure to bring out the master angler in you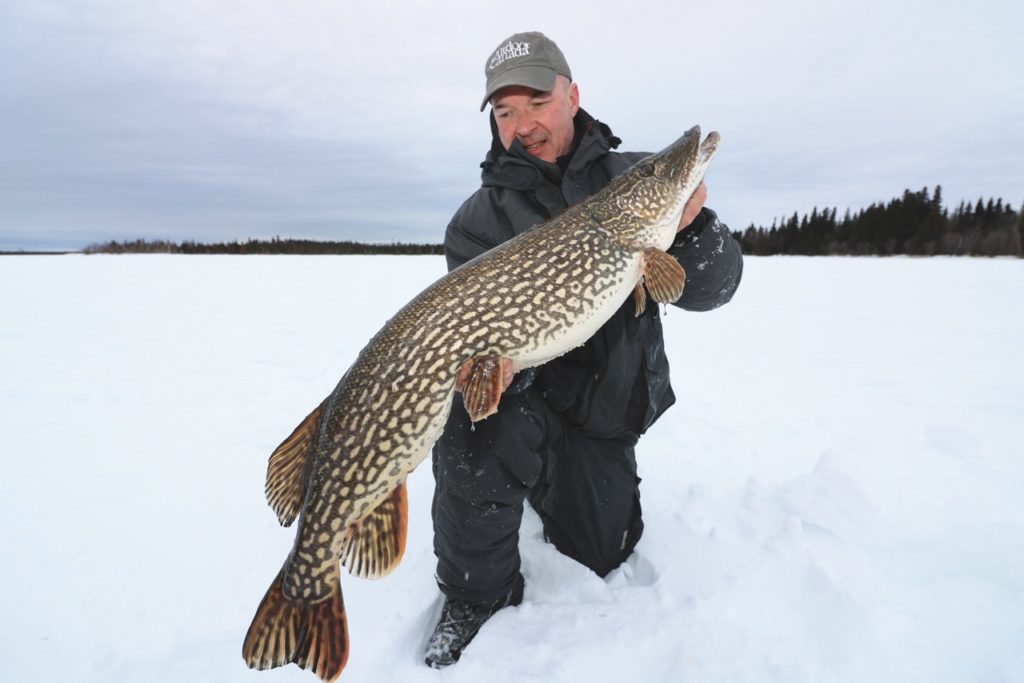 It was during our second day of fishing that I got the notion I would like to catch a fish worthy of the province's Master Angler Awards program. We were on Reed Lake, about 40 kilometres by road from the lodge, having trailered the snow machines to our jumping-off point. The game there in the morning was jigging for lake trout, and we caught some fairly decent ones, which led me to start asking about the program for rewarding anglers for their trophy catches (see "Get with the program").
We didn't catch anything that surpassed the awards threshold of 35 inches in length for lakers, but the possibilities improved immensely—literally—when we moved to a shallow bay in the afternoon to fish for northern pike. There, we hung dead herring and ciscoes under six tip-ups, spread out over an area about the size of half a football field. It didn't take long for the first flag to pop up, with Ted taking the honours of putting our first northern on the ice.
With the flags soon popping with pleasing regularity, it also didn't take long for us to get warm as we ran from hole to hole to set the hooks, land and release the fish, then rerig the tip-ups with fresh bait. The pike were definitely big, but nothing monstrous enough to qualify us for Master Angler status—my biggest catch (above) stretched the tape to 40 inches, just one inch shy of earning me a certificate and a shiny copper pin. No mind. These were awesome fish nonetheless, and they at least served to check pike off our multispecies to-do list.

While I didn't achieve Master Angler status by the end of our second day of fishing, my hopes for success were certainly not unfounded. Every winter, Bryan's ice-fishing guests average about 150 awards in total, with a good number of trophy burbot in the mix because of the hot seasonal bite. During the far busier open-water season, by contrast, the lodge's visitors typically notch up an average of 450 Master Angler fish.
As far as I was concerned, it was just a matter of time before I'd hook into an award-worthy fish, although by the afternoon of our third and final day of fishing, that time was running short. We began that morning back at the shallow walleye bay on Wekusko Lake, where Bryan soon landed an incidental northern measuring a mere half-inch short of Master Angler glory (not that he has any shortage of qualifying fish already under his belt, mind you, considering he's on the local waters—frozen or not—for most days of the year).
After continuing to jig the depths for walleye with moderate success, it was time to move on, and we ended the day where we'd initially started two days earlier, fishing alongside the lithium camp ice road. And just like that, the fishing gods smiled down on us, with our deadstick rods producing walleye almost as fast as our jigging rods. The bite was on, and I was certain it was only a matter of time before a truly big fish would smack my shiner-tipped T-Tot Jig, a favourite local offering.