Frosty fare
Tasty wild fish and game lunches for those long days out on the ice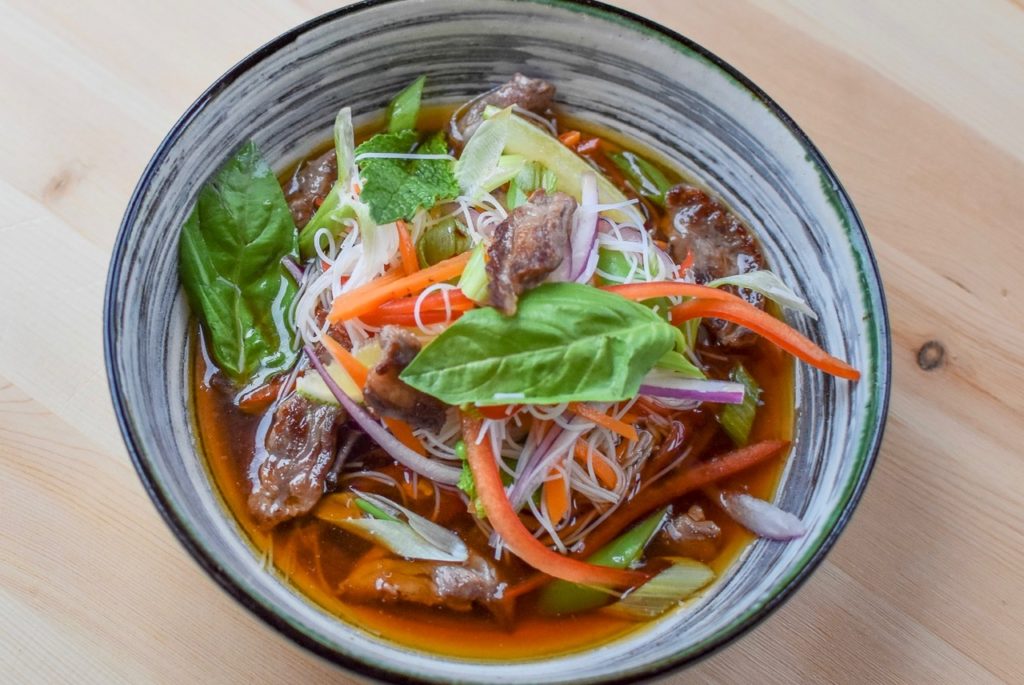 VIETNAMESE VENISON PHO
BROTH
4 cups beef broth
¼ cup soy sauce
10 cloves
2 garlic cloves, finely chopped
2 tsp fish sauce
½ tsp fennel seeds
¼ tsp ground star anise
½ cinnamon stick
1 dried or fresh red chili
GARNISH
2 cups thinly sliced, one-inch strips of venison short rib
¼ 250-g package dried flat rice noodles
½ red onion, thinly sliced
2 green onions, chopped
6 fresh mint and basil leaves
1 cup green peas, blanched
1 carrot, julienne cut, blanched
4 lime wedges
Place all broth ingredients in a pot and bring to a simmer. Cook for 30 minutes, then strain, discard solids and set aside.
Lightly sauté venison in a non-stick pan (no oil needed), then set aside to cool. Prepare rice noodles as per package instructions, and also set aside to cool.
Place all garnish ingredients in a travel container. Bring broth back to a boil and pour into a large, vacuum-insulated bottle. On the ice, divide garnish ingredients (except lime wedges) into 4 separate bowls and pour hot broth over top. Squeeze lime juice of 1 wedge into each bowl and serve.