Like father, like sons
Four days of fishing and hunting with the West's first family of wildlife conservation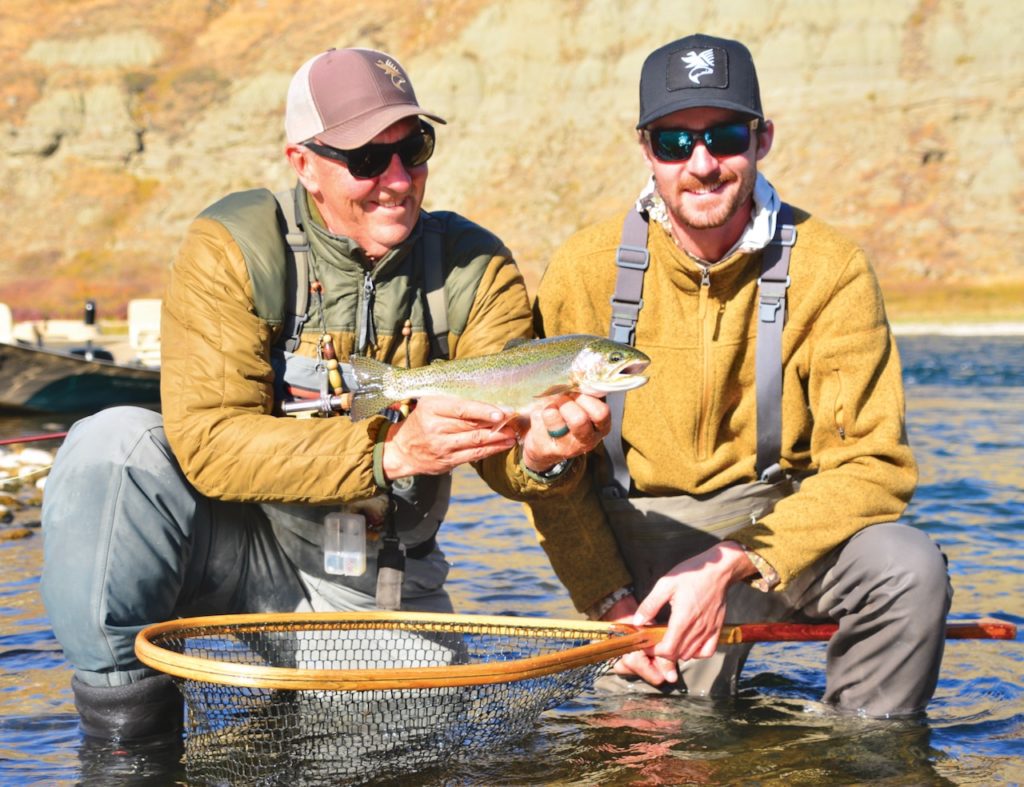 Casting a hopper-dropper rig upstream into the run below the tailout of a small pool, I couldn't help but keep one eye 100 metres downstream. There, silhouetted against the amber and emerald October backdrop of Alberta's Bow River, Kade McCormick was working a long riffle. He was casting with such ease and beauty that anyone who appreciates the art of the high line would have had a hard time looking away. As it turned out, I should have been keeping my eye on my own work, because I missed one of the few strikes I'd get that day.
I seldom fish in October. Most years, my rods have long been stashed away in favour of a shotgun or two by then. But an invitation to join the McCormick clan for four days was more than reason enough to dig out the waders and fly gear.
If you're an outdoor enthusiast in southern Alberta, you'll undoubtedly know the McCormick name. It could be from patriarch Perry's many years as a conservation professional, avid angler and hunter, and guide. These days, however, that name recognition might just as easily arise from his sons, Carson and Kade, who are forging conservation careers of their own, and also earning renown for their hunting, angling and guiding accomplishments. Together with Perry, they own and operate southern Alberta's Red Willow Outdoors, an outfitting business that specializes in upland game bird and waterfowl hunts, along with guided float trips on the renowned Bow.
Only Kade was able to join me and Perry, my friend of four decades, that first day on the Bow. When we launched their handsome ClackaCraft drift boat in the early morning, the fall skies were largely overcast, and the air was crisp and cool—what looked to be perfect weather for targeting the brown and rainbow trout that make the Bow such a legendary river. Perry said the river flow was as low as he could remember ever seeing it, however, making it difficult to predict how the fish would behave. But I remained optimistic about our chances.
If you're an outdoor enthusiast in southern Alberta, you'll undoubtedly know the McCormick name
Moments after I missed that first strike while admiring Kade's fly casting, I heard him shout that familiar angler's refrain: "Fish on!" I ambled down to where he was doing battle, arriving just in time to net the fat 20-inch rainbow on the end of his line. After I took a few quick obligatory photos, Kade matter-of-factly slipped the fish back into the cool water.
Now, an honest 20-inch fly-caught trout is a pretty darn good fish, even on the Bow, where 24-inch-plus fish are hooked with some regularity. For Kade, however, it was just another fish on another day. He's part of the new wave of fly anglers on Alberta's trout streams that's taking the sport to whole new levels; no stream is too remote or too daunting for them.
As for 24-year-old Kade's casting skills, they surpass even those of his father, who, I might add, has been fly fishing for nearly twice the time Kade's been alive, and is recognized as a damn fine angler in his own right.
Soon after Kade released his fish, Perry hooked into a chunky 18-inch 'bow of his own, but that fish signalled the beginning of the end for us. As the barometer began to fall and the wind picked up, the casting became more challenging and the fish became increasingly reluctant to bite.
Kade, because he's just that good, did manage to land a few more trout before day's end, but I struggled. I did hook one decent fish late in the afternoon, but overplayed it waiting for someone to get a camera ready, and eventually lost it. I should have known better, and my failure to quickly land that fish broke a streak of some note. You see, Perry and I have fished the Bow for a day or two together every year for nearly three decades, and during that entire time, I'd never been shut out. All good things must come to pass, I suppose.