Like father, like sons
Four days of fishing and hunting with the West's first family of wildlife conservation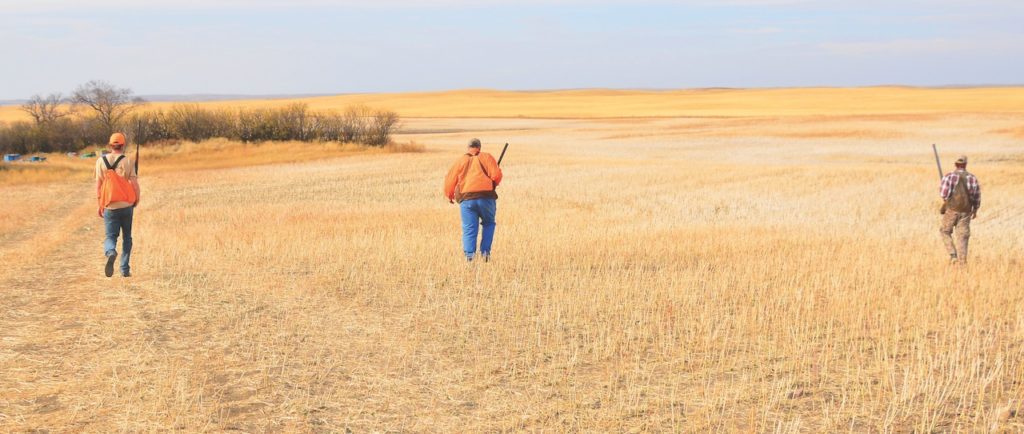 Deciding we wanted to hunt Huns yet again, we headed east the following morning, almost reaching the Saskatchewan border. Perry knows the area intimately, so we hunted specific abandoned farmsteads—one by one—driving past numerous others that looked equally attractive to the inexperienced eye. But there's no substitute for local hunter knowledge, and invariably we put up a covey or two at each stop.
We took just two or three birds from each covey before moving on, however, to ensure there'd be sufficient breeding stock left behind for the continued sustainability of the populations. By early afternoon, we wrapped up with a limit of 20 Huns in hand—world-class upland bird gunning by any standard.
Later, as Perry and I shared windshield time until reaching the crossroads where I would jump in my truck and head north toward home, he talked with pride about Kade and Carson, and how fishing, hunting and conservation had strengthened their relationship. "Never could I have imagined that the three of us would all be working for the conservation of game birds and their habitats in southern Alberta at the same time," he says. "It's beyond my wildest dreams,"
Making Perry equally happy is how much time the family has been able to fish and hunt together. "When the boys were young, it was clear that the only way I'd be able to continue to fish and hunt would be to pack them along, so that's what we did," he says. "Family vacations invariably involved camping along a trout stream or a duck marsh."
Perry does admit, however, to thinking his sons had abandoned the outdoors in their teens, when they became elite-level athletes. With Kade in lacrosse and Carson in both hockey and lacrosse, it left little time for them to enjoy the outdoors. Fortunately, Perry says, they both came back to the outdoor fold around the age of 20. "Carson simply walked up one day and told me he wanted to be an outdoorsman," he says. "That's all it took, and soon all three of us were afield or on the water together whenever we could find time."
And despite his two sons having two very different personalities, Perry says, they get along famously. "I can't remember them ever having a fight," he says, noting that he's now starting to reap the awards as Carson and Kade have matured, gaining both confidence and experience, "These days, as often as not, they handle the spotting, the set-up and the cleaning of game. We're true partners in the field."
When both sons ultimately joined Red Willow Outdoors as guides, everything came full circle. "Guiding provides a great platform for them to develop leadership skills that help them grow, both personally and in their professional lives," Perry says. "I let them fall forward, to make their own decisions and to learn from the consequences. It's been fun to watch them evolve. And it will bring added enjoyment to see where their professional careers lead them, and where they take the guiding business in the years ahead."
From the outside looking in, all of this makes me optimistic that the future of Alberta's wildlife habitat—and fishing and hunting traditions—will long continue to benefit under the watchful and committed eye of the McCormick family.
Learn more about the McCormick family's guiding company at www.redwillowoutdoors.com.