Like father, like sons
Four days of fishing and hunting with the West's first family of wildlife conservation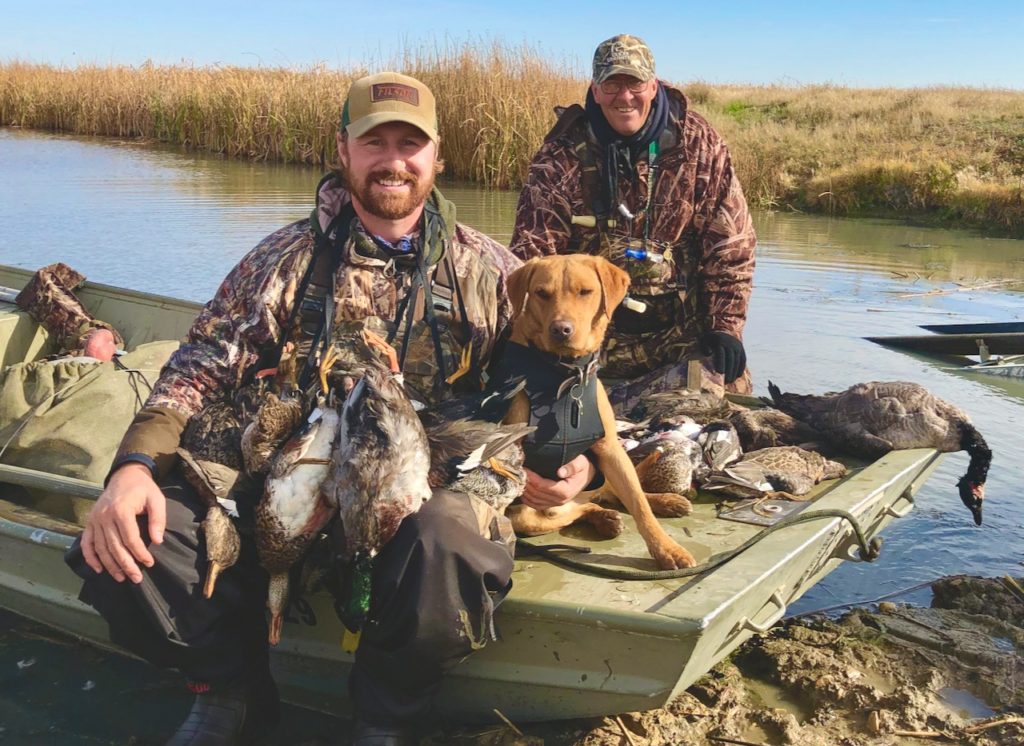 Carson (left) and Perry with dog BuschWhile Kade had returned home the night before, Perry, Carson and I had carried on to Brooks to hunt waterfowl, and we were back up and at 'em while dawn was still enjoying her sleep. By 7 a.m., we'd launched Carson's GO-Devil-equipped jon boat onto Lake San Francisco, a wetland that traces its lineage back to DUC's earliest habitat work on the prairies. It was familiar water for Perry and me, as we hunted there regularly throughout the 1980s when we were both working as biologists out of Brooks.
Lake San Francisco is actually a traditional hemi-marsh, with a relatively even interspersion of open-water and emergent vegetation, making it ideal for waterfowl. Our decoy rig that morning consisted of a long line of redheads, a couple dozen individually strung mallard blocks, and two Mojo bluebill floaters. We were all set up and hidden away in a large, mid-lake clump of hardstem bulrush just as the first shards of legal light peeked over the eastern horizon, and a hunter's breeze gave life to our decoys.
Right out of the gate, the birds were flying, with a mix of dabblers sprinkled in with the occasional flight of divers. In no time at all, despite less than stellar shooting from the three of us, we had eight birds in the water. With each splash, Carson would send out three-year-old Busch, who would invariably come back with a duck. Then, as quickly as the action had started, it ended, in concert with the dying wind.
With few ducks moving, we patiently waited and enjoyed the spectacle of Canadas, whitefronts and snows returning from their morning feed. Then, at around 10:30, the wind picked up, the ducks began to fly again, and our shooting found its form. We packed it in when we had our limit of 24, a jumble of mallards, gadwall, green-winged teal, scaup and bufflehead, with one bonus Canada goose.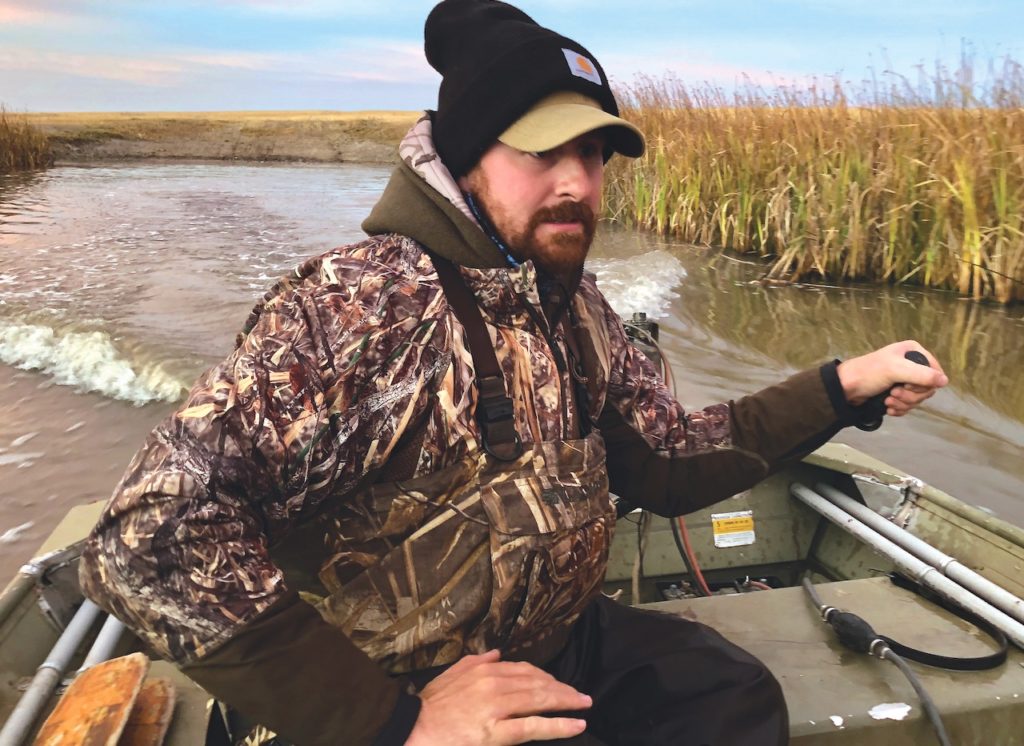 All in all, it was a superb hunt that brought back great memories of bygone days; I reveled in being able to share time on that lake again, made all that much better because Carson was there to enjoy it with us, quarterbacking the hunt.
After a quick lunch, the three of us headed out to seek sharp-tailed grouse, led by Carson's intimate knowledge of the bird's habitat in and around Brooks. While Kade enjoys the complete gamut of fishing and hunting experiences, his true passion is fly fishing, especially for brown trout. Carson, on other hand, is another do-it-all outdoorsman, but he's most passionate about upland bird hunting, and shares Perry's love and pride for the field-to-plate ethos—he's become a superb fish and game chef in his own right.
Carson's enthusiasm for upland birds was apparent as we headed into a vast landscape of native grasses and shrubs north of Brooks, looking for sharptails. We worked hard, with Louis working even harder, and after a couple of hours of walking, we managed to put up three birds, downing two of them. Surprisingly, each bird was alone instead of in a covey, or we'd undoubtedly have taken more. On our way back to town, we rounded out the day by managing to add a couple of Huns to the bag.
Laurette and Kade, meanwhile, had already arrived in Brooks, and that evening, after a scrumptious fish fry, we all enjoyed apres-hunt cocktails while we cleaned birds, related stories of past hunting and fishing adventures, shared dreams of future trips, and planned our final day's hunt.