Recipe & video: Niçoise Crappie Salad
Canada meets the south of France in this healthy, colourful, grilled-fish salad
Summer is the perfect time to raid the garden or visit the farmers' market to gather fresh produce for this healthy, colourful, traditional salad from the south of France. Rather than include tuna or anchovies as per the original recipe, however, this delicious dish calls for crappies, or any other delicate freshwater catch. Serves 4.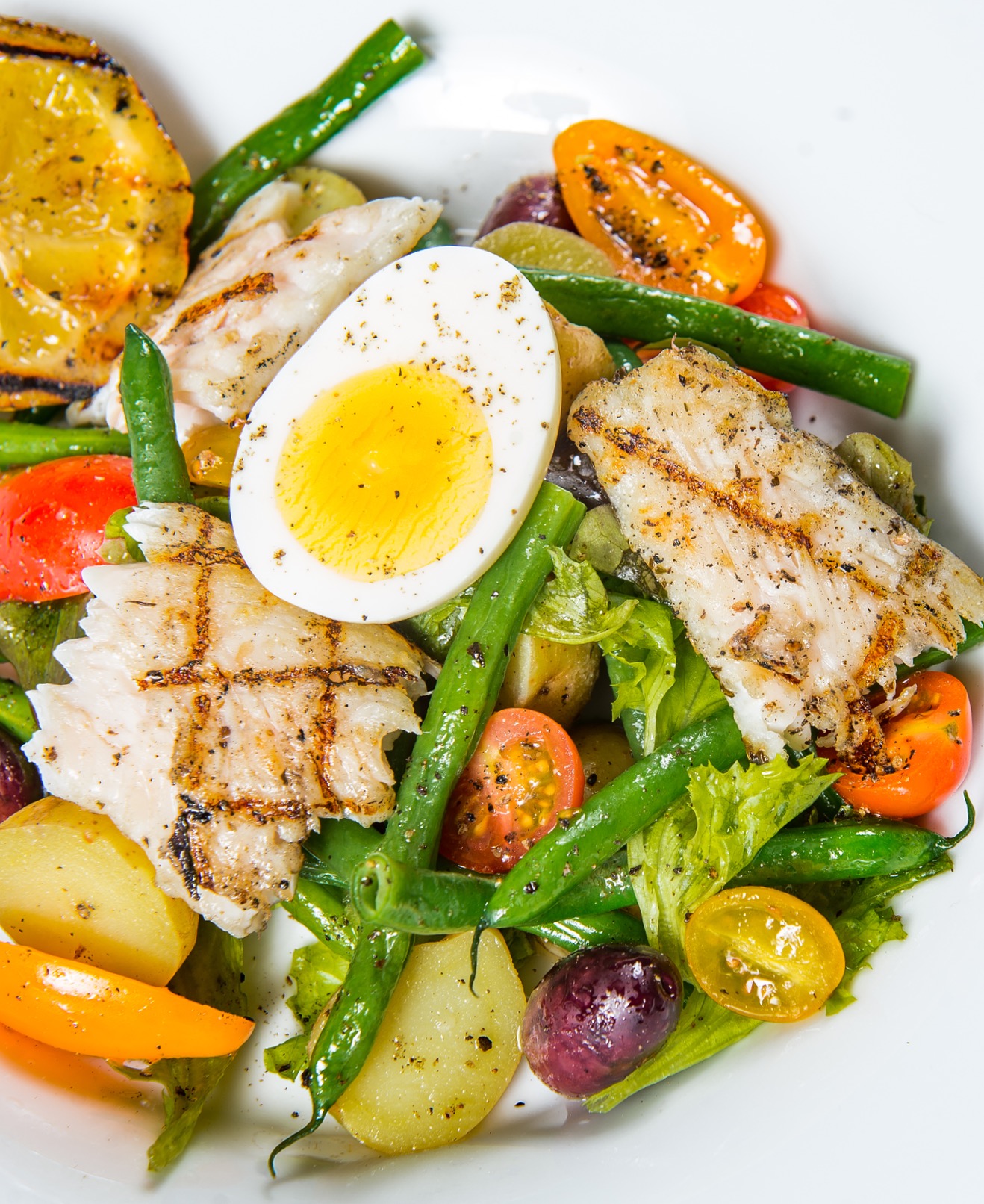 Vinaigrette
½ cup olive oil
3 tbsp balsamic vinegar
2 cloves garlic, minced
1 tsp mustard powder
Pinch salt and pepper
Salad
3 crappies, filleted
2 tbsp olive oil
Pinch kosher salt and black pepper
2 young potatoes, boiled, quartered and chilled
16 black olives, pitted
1 cup green beans, blanched and chilled
4 hard-boiled eggs, shelled and halved
1 cup cherry tomatoes
1 tbsp chopped basil
1 small head Boston lettuce, leaves separated
Mix all vinaigrette ingredients in a bowl and chill.
Sprinkle fillets with oil, salt and pepper. Set barbecue to medium and grill fillets for 3 minutes on each side, then set aside.
Place potatoes, olives, beans, eggs, tomatoes, basil and lettuce in a mixing bowl. Toss with vinaigrette, then portion out onto four plates.
Break fillets into pieces and portion out on top of each salad, then serve.
A hunter, angler and Certified Chef du Cuisine in Winnipeg, Cameron Tait is Outdoor Canada's Table Fare game recipe contributor. His dishes are photographed by 100 Acre Woods Photography.
To watch Cameron Tait prepare this dish and others, go to www.outdoorcanada.ca/food.

For the glass
With its gooseberry, melon and pleasant citrus flavours, Lakeview Cellars Sauvignon Blanc makes an excellent accompaniment for this light dish of garden vegetables, egg and fresh fish. Chill well, and enjoy.