Industry veteran Brian McDonald will be inducted into the Canadian Angler Hall of Fame
OFAH to also be honoured at the Spring Fishing & Boat Show
A pro hockey player turned sales and marketing pro in the fishing industry has been named this year's inductee into the Canadian Angler Hall of Fame. Brian McDonald, 73, will be officially honoured this Friday, February 15, during a morning ceremony at the Spring Fishing and Boat Show in Mississauga, Ontario.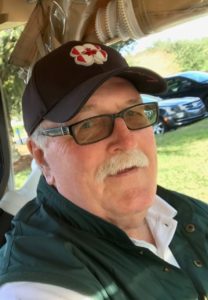 Also on Friday, the Get Outdoors Program of the Ontario Federation of Anglers and Hunters will receive the Rick Amsbury Award of Excellence, presented annually to an individual or individuals for their "outstanding performance put forth through the course of the year." OFAH will also be presented with the Conservation Project of the Year award for its Invasive Species Awareness Program, now in its 26th year.
Perhaps best known in Canadian sportfishing circles for helming Berkley Canada and leading its transition to Pure Fishing Canada, McDonald played professional hockey for 12 years, including stints as a centre man with the NHL's Chicago Blackhawks and Buffalo Sabres, and later several World Hockey Association teams.
Before joining Berkley Canada, Toronto-born McDonald worked with Woodstream Corporation selling tackleboxes and trapping supplies, eventually becoming the Niagara Falls, Ontario-based company's VP Sales and Marketing. During his time with Woodstream, McDonald oversaw the purchase of the Fenwick Rod Company and helped lay the groundwork for the formation of the Canadian Sport Fishing Foundation, now known as the Canadian Sportfishing Industry Association.
[easy-tweet tweet="Congratulations to angling industry luminary Brian McDonald, who's the newest Canadian Angler Hall of Famer! " user="OutdoorCanada"]
From Woodstream, McDonald joined Norm Belanger to create his own sales agency, Upper Canada Sports, before eventually joining Berkley Canada as VP of Sales. Following the formation of Pure Fishing Canada, he ascended the corporate ladder further, taking over worldwide sales. He retired in 2005 as Executive VP of Sales U.S.A., based out of Pure Fishing's headquarters in Spirit Lake, Iowa. He and his wife, Marlene, now split their time between St. Catharines, Ontario, and Hilton Head, South Carolina.
The Spring Fishing and Boat Show opens Friday, February 15 at the International Centre, and continues until February 18. Along with exhibitors, retailers and family attractions, the show features seminars by a who's who of Canadian and international angling experts, including Outdoor Canada Fishing Editor Gord Pyzer, Bob Izumi, Dave Mercer, Mike Miller, J.P. DeRose, Paul Powis, Wil Wegman, Jim Saric, James Lindner, Big Jim McLaughlin and many more.
Read about past inductees into the Canadian Angler Hall of Fame, established in 2008:
2018: Dave Mercer
2017: Wil Wegman
2016: Wilf Carter
2015: John Casselman
2014: Patrick Campeau
2013: Rick Morgan
2012: Pete Bowman, Wayne Izumi, Phil Morlock and Bob Paterson
2011: Bill Otway, Darryl Choronzey, Big Jim McLaughlin and Tom Brooke
2010: Angelo and Reno Viola, John Kerr and Bruce Park
2009: Bob Izumi, Gord Pyzer
2008: Rick Amsbury, Red Fisher, John Power