Cam Thomson is the newest member of the Canadian Angler Hall of Fame
Other honourees include Todd Longley and the Aurora Bassmasters
Cam Thomson, retired director of sales for Pure Fishing, was inducted into the Canadian Angler Hall of Fame at an awards ceremony on February 14th, kicking off the 2020 Spring Fishing and Boat Show in Mississauga, Ontario.  
As well, Winnipeg's Todd Longley was presented with the prestigious Rick Amsbury Award of Excellence, and the Aurora Bassmasters Talbot River Habitat Restoration Project was awarded Conservation Project of the Year. 
Thomson began his career with the venerable Canadian outdoor company Woodstream, which later became part of Pure Fishing. During his long career he worked tirelessly to promote sportfishing and conservation, including helping to found the Canadian Sportfishing Industry Association, which is dedicated to preserving Canada's angling heritage. Speaking to the crowd of pro anglers, fishing industry members and outdoor media, Thomson said he was delighted and grateful for this honour, but also deeply humbled to be included in the same ranks as Hall of Famers Red Fisher, Bob Izumi, Tom Brooke and Outdoor Canada's Gord Pyzer.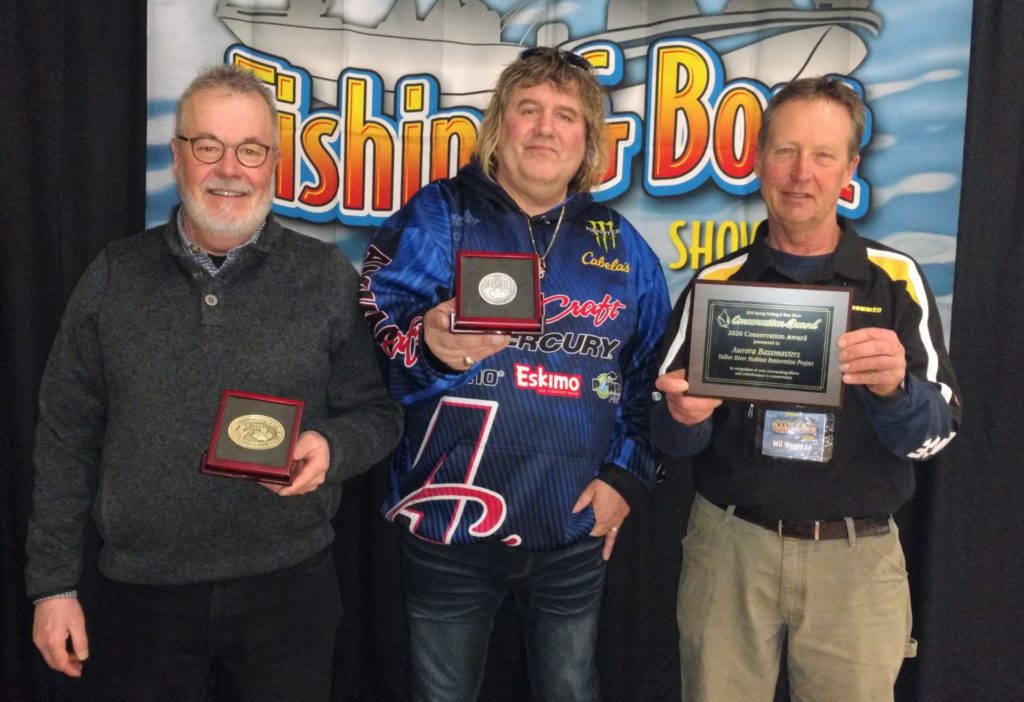 Named for legendary sportfishing champion Rick Amsbury—founder of National Fishing Week—the Rick Amsbury Award of Excellence was presented to Todd Longley for his exceptional efforts in advocating for sportfishing in Manitoba. Longley has also enthusiastically participated in–and then gone on to found–many angling-related charity and community initiatives, with a special focus on youth with disabilities and those from disadvantaged or troubled backgrounds.  
In a moving acceptance speech, Longley described his own difficult childhood, which included brushes with the law, and his eventual placement in a group home. After aging out of the system, he rediscovered a childhood passion for angling, which he eventually built into his City Cats guiding business. As his angling profile grew, Longley was determined to give back to the community, and help kids find a passion for the outdoors, as a way for them to stay out of trouble.   
Most recently, Longley is the founder and director of both Generation Next Angler, a not-for-profit organization that encourages kids and families from all walks of life to get out fishing; and Keeping It Reel, an event where pro anglers take kids with disabilities or life- threatening illnesses  on the water for a day of fishing.  
Canadian Angler Hall of Fame member Wil Wegman accepted the Conservation Project of the Year Award for the Aurora Bassmasters Talbot River Habitat Restoration Project. Wegman explained how, building on earlier habitat improvement work by other groups, his club undertook a time-consuming project to eradicate invasive water soldier plants from waters feeding into south-central Ontario's Talbot River. Since the Talbot is a major tributary of Lake Simcoe, these plants had the potential to enter and degrade Simcoe's popular, world-class fishery. Water soldier plants form dense mats of floating vegetation, which crowd out native species, but thanks to the club's efforts, this invasive no longer threatens the Talbot River. 
The Spring Fishing and Boat Show opened Friday, February 14 at the International Centre, and continues until Monday, February 17. Along with exhibitors, retailers and family attractions, the show features seminars by angling experts, including Outdoor Canada fishing editor Gord Pyzer, Real Fishing's Bob Izumi, Canadian Sportfishing's Italo Labignan, Musky Hunter's Jim Saric and FLW bass pro Brian Latimer. 
Read about past inductees into the Canadian Angler Hall of Fame, established in 2008: 
2019: Brian McDonald  
2018: Dave Mercer 
2017: Wil Wegman 
2016: Wilf Carter 
2015: John Casselman 
2014: Patrick Campeau 
2013: Rick Morgan 
2012: Pete Bowman, Wayne Izumi, Phil Morlock and Bob Paterson 
2011: Bill Otway, Darryl Choronzey, Big Jim McLaughlin and Tom Brooke 
2010: Angelo and Reno Viola, John Kerr and Bruce Park 
2009: Bob Izumi, Gord Pyzer 
2008: Rick Amsbury, Red Fisher, John Power