CHASING THE NORTH-OF-60 TRIPLE CROWN
Magnificent Kasba Lake is home to astonishing numbers of large lake trout, northern pike and Arctic grayling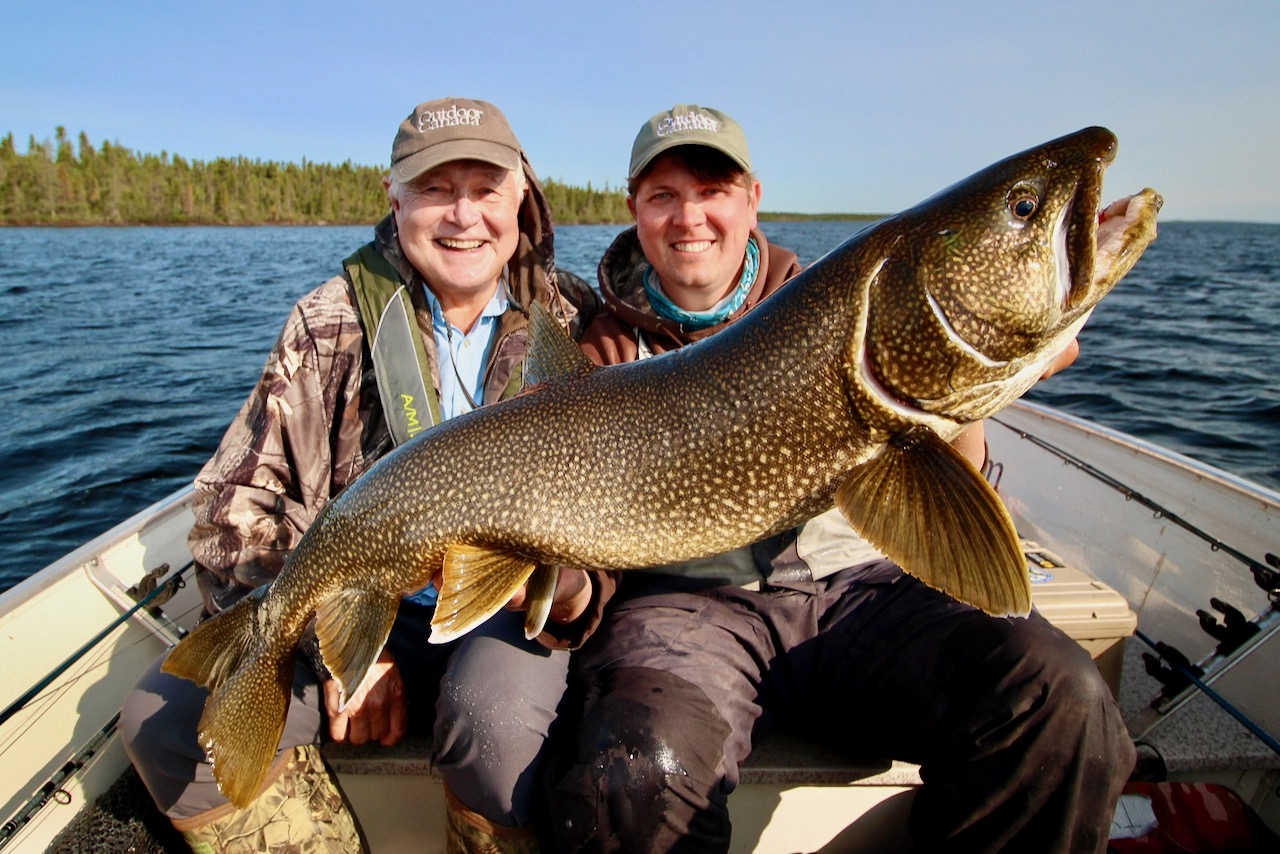 #2  The lake trout are big and everywhere—and some are really big
Whether you're a fly angler or a baitcaster, from Texas or Toledo or Toronto, there's one thing everyone who fishes the north shares: they all fall in love with lake trout. Streamlined, beautifully marked and thickly muscled, lakers are fearsome predators, possessed of the kind of speed and strength rarely found in freshwater fish. When I'm fishing around home, a single five-pound lake trout is a great day on the water. Kasba is full of trout that eat five-pounders.
In just three days of targeting trout, Lynn and I and had three 20-pound-plus fish in the boat, and dozens of smaller ones. We were specifically trophy hunting, using very large spoons, plugs, jigs and flies, which lowered our numbers of trout caught, but upped the average size a lot. And wow, do those big trout pull.
I had a donkey of 22-pounder that took a deltoid-popping 15 minutes to land. In fact, before it came into view, we all secretly thought it might be twice as big, but nope—just freakishly strong. Some large lake trout have the perfect physical beauty seen in smaller river trout, just scaled up to huge proportions. But others (and the ones I love best) are sort of beastly and busted-looking, as befits a ferocious marauder of the deep. One friend looked at my photo of that donkey laker (below), and replied that it was such a formidable animal, he barely recognized it as a trout.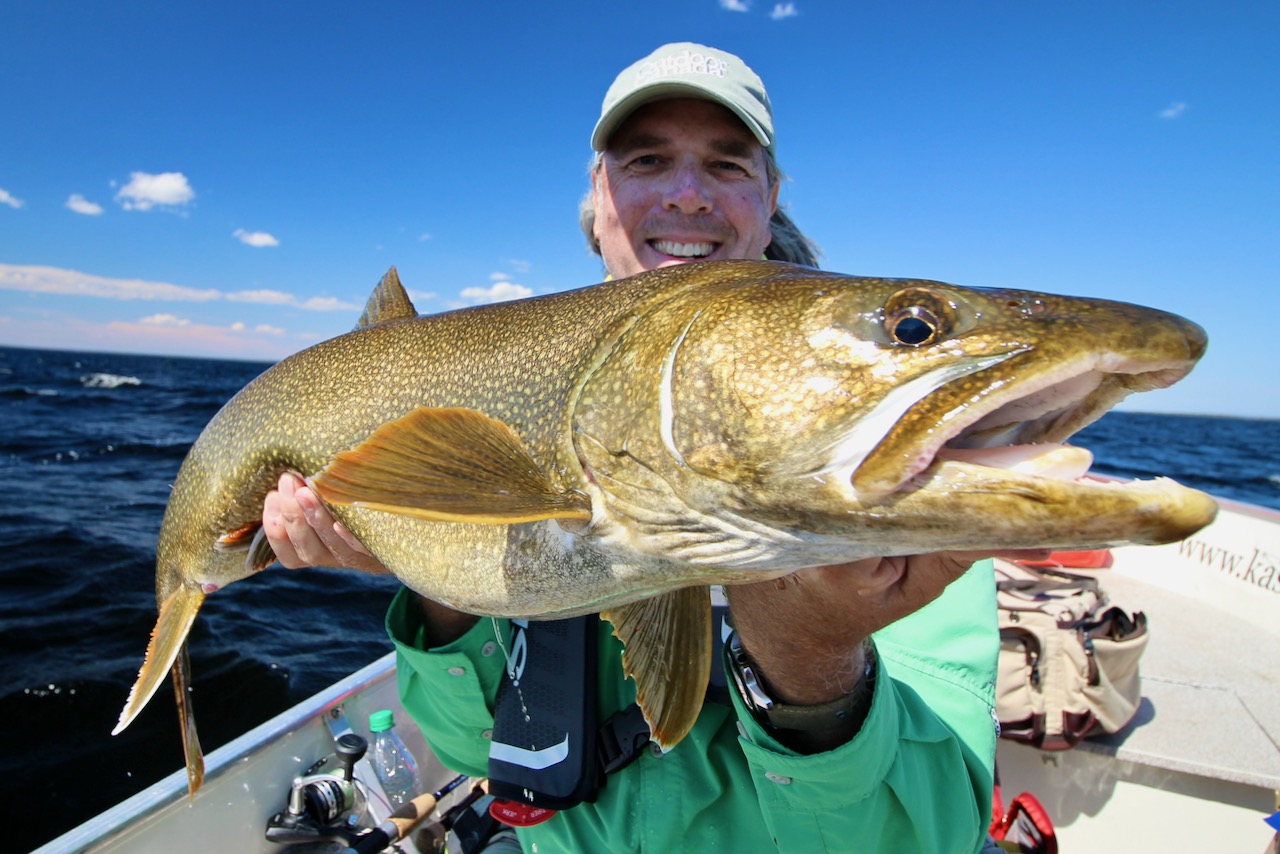 You can also rack up out-of-this-world numbers. Our guide, Tyler Jones, from Peterborough, Ontario, said that sometimes guests want fast action so he trolls small (as in only 4-inch-long) spoons or lipless cranks. With these baits, anglers can pull in 5-pound trout literally all day long, catching 50 or, some days, even 100 fish.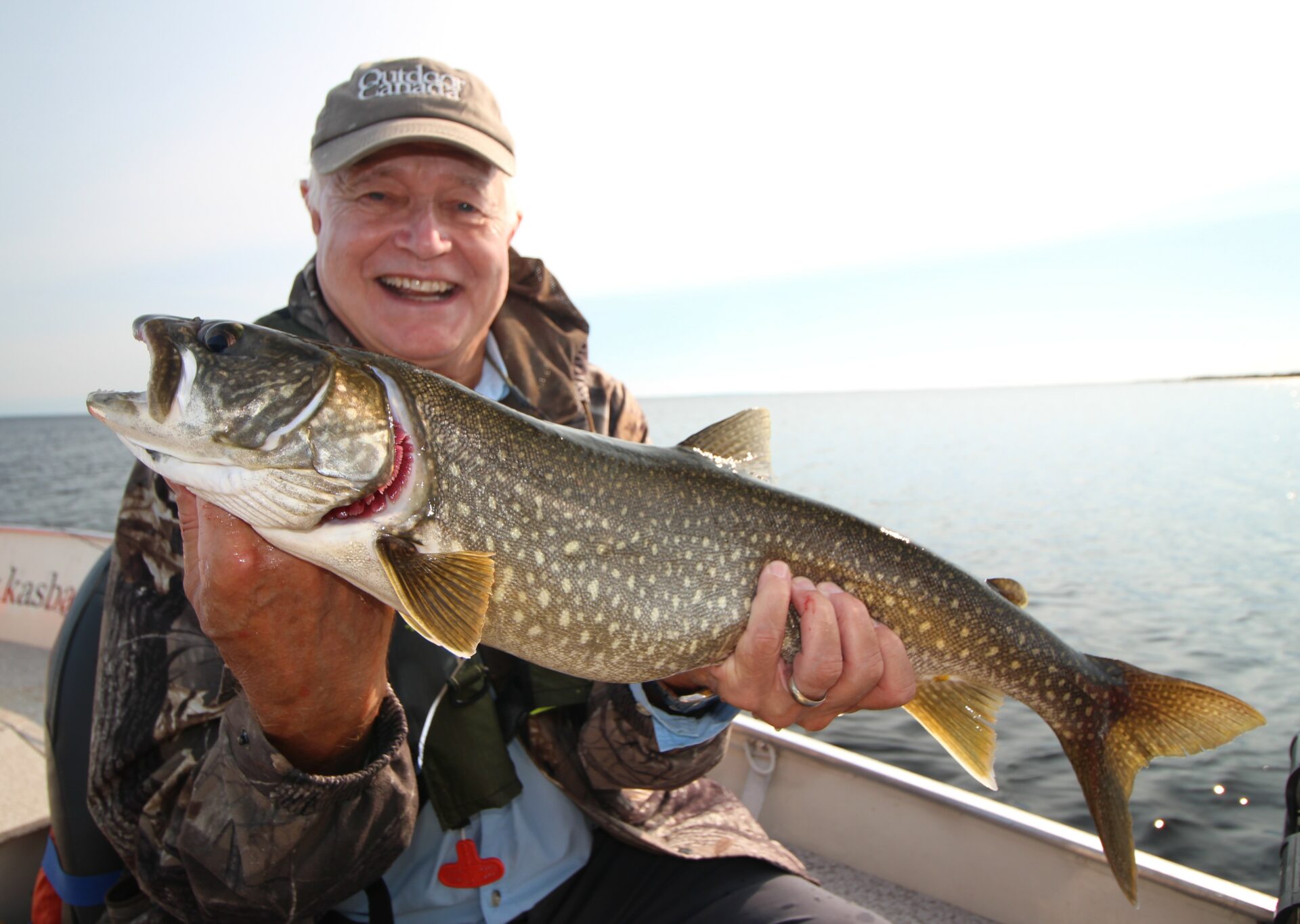 The other remarkable thing about Kasba trout is that they're widely distributed all over the lake. You can haul in big fish at the famous "Dome" structure, some 30 kilometres' run from the lodge. But you also catch them five minutes from the dock. In fact, during a vicious day-long windstorm. We spent eight hours cruising around in protected channels, never venturing more than 10 minutes from the lodge, and caught two of our three biggest lakers. In between, we took a 90-minute "break" around midday to land a bunch of pike, including a 36-incher. That's quite a fishery.